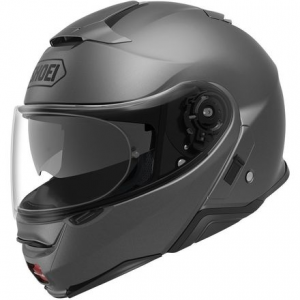 Shoei Neotec II Helmet
SHOEI NEOTEC II - Experience the Versatility. When SHOEI first introduced the NEOTEC in 2011, riders worldwide realized not all modular helmets were created equal. With its lightweight, highly-aerodynamic shell, advanced noise reduction, and optimal vision protection, all combined with an ease of use (critical to a modular helmet), SHOEI had indeed achieved new heights in head gear design. But that was just the beginning. Now, with the NEOTEC II, SHOEI has not only improved on already outstanding features, but also introduced design advances to bring their premiere modular design into a whole new era. Aerodynamic Shell Design: Aerodynamic properties are maximized through extensive wind tunnel testing. Dual-layer EPS liner enhances impact absorption and ventilation. Four shell sizes and five liners present increased fit options that help to comfortably fit most head sizes from XS through XXL. SHOEI's exclusive, state-of-the-art shell forming technology incorporates the aerodynamic advantages of a spoiler right into the shell of the NEOTEC(R). Vortex Generator on the face cover and visor works to reduce noise and manage air flow around the helmet. Flip-Up Face Cover and Face Shield: SHOEI's proven 360deg Pivot Locking System, made of high-quality stainless steel components, ensures a safe and secure closure. Enlarged single-button release for chin bar and shield allows ease of use with riding gloves. Increased space inside the chin bar was added by adjusting the shape to create a smart and light design. Opening the face cover up will automatically close the face shield. Sun Shield Visor System: Built-in QSV-1 sun shield gives riders instant relief from sun glare in one quick motion. Visor meets ANSI Z80.3-2010 standard for non-prescription eyeglasses. Large and easy-to-reach slide switch activates the 3D injection-molded inner sun shield. Distortion-free shield blocks 99% of harmful UV rays. Forehead area of the outer shell is raised slightly to accommodate the internal sun shield. This allows the integrity of the helmet's inner EPS liner to remain intact. Ventilation System: SHOEI's wind tunnels helped to reveal the optimal balance between airflow and silence . Large lower vent shutter for ease of use with riding gloves optimizes air flow while in the riding position. All-new exhaust outlets flank adjustable upper air intake for improved hot-air expulsion. Micro Ratchet Chin Strap: Patent-pending 100% stainless steel interlocking mechanism. Quick and smooth closure and release. Comfortable and easily adjustable. Noise Reduction: All-new "Noise Isolator" cheek pads deflect wind and reduce unwanted noise. New airtight window bead and the chin bar's "Vortex Generator" lip reduce noise and manage airflow around the helmet. Enhanced shell shape improves noise control and aerodynamics. 3D Interior Liner System: The entire interior liner (cheek pads, upper liner, and chin strap covers) is easily removed for cleaning or replacement. Each component of the inner liner is ergonomically designed to offer the ultimate in safety, fit, and comfort. Comfortable, 3D helmet liner material quickly dissipates moisture. Eyeglass compatible interior is optimized for many different sizes of eyeglasses, while still minimizing gaps that can cause excess interior noise. CNS-3 Shield and Base Plate System: All-new design provides improved air / water sealing and noise reduction. Protects from 99% of the sun's damaging UV rays. 3D injection-molding ensures distortion-free view throughout the entire
A DISCOUNT WILL SHOW AT CHECKOUT
SHOEI NEOTEC II – Experience the Versatility.
When SHOEI first introduced the NEOTEC in 2011, riders worldwide realized not all modular helmets were created equal. With its lightweight, highly-aerodynamic shell, advanced noise reduction, and optimal vision protection, all combined with an ease of use (critical to a modular helmet), SHOEI had indeed achieved new heights in head gear design. But that was just the beginning. Now, with the NEOTEC II, SHOEI has not only improved on already outstanding features, but also introduced design advances to bring their premiere modular design into a whole new era.
Ventilation Performance
– The NEOTEC II's improved ventilation system has been wind-tunnel tested for cool air intake and hot air expulsion. Large upper and lower vent shutters offer greater ease of use with gloves. The expanded three-position upper air intake helps increase ventilation performance and adjustability. All-new exhaust outlets flank the upper air intake vents for improved hot air clearance.
Aerodynamics
– Helmet aerodynamics have been wind tunnel-tested, and optimized to accommodate varying riding positions. The NEOTEC II's shell-integrated spoiler is now reshaped and repositioned to further reduce lift and drag. The helmet's top air outlet also serves as a spoiler when riding in the upright position. Chin bar aerodynamics are improved by the newly designed "Aero Deflector".
Micro Ratchet Chin Strap
– The Micro Ratchet Chin Strap is a 100% stainless steel interlocking mechanism which offers quick and smooth closure and opening, comfort, and is easily adjustable.
Noise Reduction
– The NEOTEC II's enhanced shell shape has been designed to improve noise control. A new airtight window bead, along with the face cover's "Vortex Generator" lip, help reduce noise and manage overall airflow. SHOEI also developed new "Noise Isolator" cheekpads that deflect wind, as well as reduce unwanted noise.
CNS-3 Shield System
– The newly-designed CNS-3 shield comes equipped with the Pinlock EVO fog-resistant system, protects from 99% of the sun's damaging UV rays, and provides improved air / water sealing and noise reduction. 3D injection molding ensures a distortion-free view throughout the entire field of vision. The incorporated base plate system facilitates smooth and easy shield changes.
Flip-Up Face Cover
– The NEOTEC II's Flip-Up Face Cover is designed to convert instantly from a full-face to an open-face configuration with the simple push of a large lock release button located at the chin. The Face Cover holds firmly in the open position with the help of the all-new 360 Pivot Locking System, which assures a safe, secure closure when the cover is in the down, locked position. Lightweight Face Cover / face shield rotate with smooth precision on a variable eccentric axis, yielding the seamless versatility of a two-in-one design.
QSV-1 Internal Sun Shield
– SHOEI's NEOTEC II includes a built-in QSV-1 sun shield that offers instant relief from sun glare with the use of a large, easily located switch. The distortion-free view blocks 99% of the sun's damaging UV rays, and exceeds ANSI Z80.3-2010 standards for non-prescription eyewear. The helmet's outer shell forehead area is raised slightly to accommodate the internal sun shield. This allows the integrity of the helmet's inner EPS liner to remain intact.
Multi-Piece EPS Liner
– The NEOTEC II's EPS liner provides enhanced impact absorption by utilizing varying densities of foam. Cooling air is allowed to travel unrestricted through tunnels in the EPS. Precise placement of multi-density EPS material yields a more compact, lightweight design.
Interior Comfort System
– The removable interiors of the NEOTEC II are three-dimensionally shaped to match the contours of a rider's head, with multi-layer cheek pads for improved comfort and helmet stabilization. All interiors are adjustable, washable, and replaceable. The "Noise Isolator" cheek pads have been developed to help deflect wind and reduce noise.
Intercom-Ready Design
– For riders traveling in groups who need to remain in communication with each other while traveling, the Neotec II has been designed to integrate seamlessly with the SENA SRL Communication System (sold separately), which in turn has been developed specifically for use with this helmet, and is sold exclusively by Sena.