Trailmaster TM38 300cc Off-Road Dirt Bike Water Cooled, 6 Speed $3849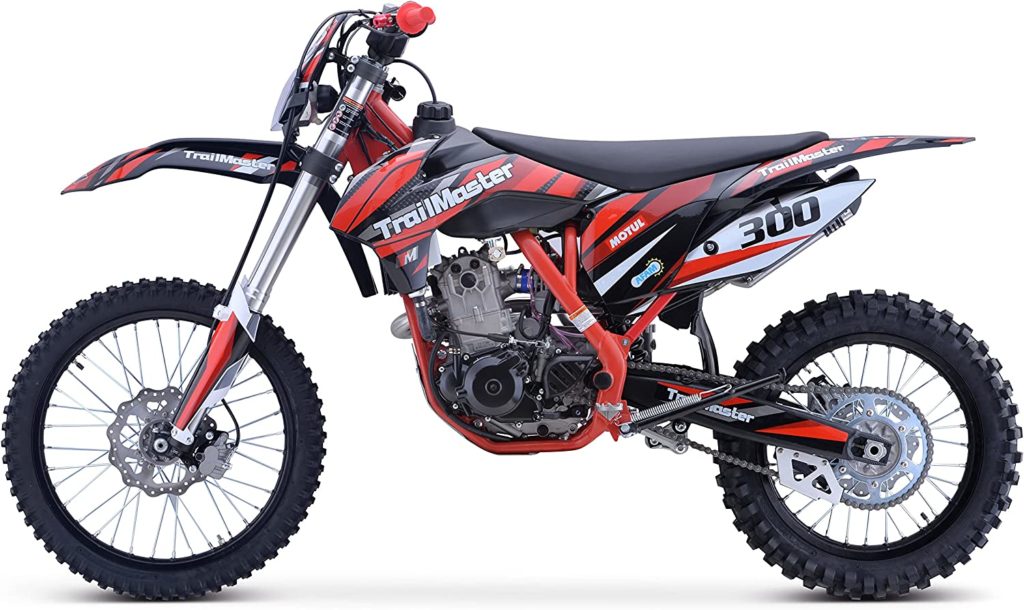 ********CLICK BUY NOW A DISCOUNT WILL SHOW AT CHECKOUT *******
The all-new TM38 300cc Dirt bike is the newest exciting off-road product from one of the industry's largest and most innovative companies. This all-new 300cc Water-cooled 6-speed full-size dirt bike is the most powerful bike in the class.
The larger frame, the taller seat make this a perfect fit for the big guys in the house. Finally a taller seat, a longer frame, and fully adjustable shocks. Long-throw suspension, race-style carb. The most advanced transmission in the industry.
Upgraded carb, adjustable suspension, 6 speeds. Great power to weight ratio, great stopping power. twin spare lightweight design for ease of maintenance
The TrailMaster dirt bike offers a superior frame design, improved suspension, and the industry longest 6 months/6,000 miles warranty on engine and transmission.

The transmission features a Wet Multi-Plate, Constant-mesh, two-stage transmission, 5-speed.
The suspension features inverted front forks and 245mm of adjustment.
This all-new dirt bike brings together design features found on bikes that cost five times as much. This is the first true dirt bike from TM. Longer frames and extended suspensions give the bike more suspension for the ruts and rougher terrain than pit bikes do not handle very well.
This is a full-size dirt bike made for trail riding, off-roading, or just cruising.
This is a complete line of dirt bikes for the whole family. The 110cc TM 10, the TM 11, and the 300cc TM 27 and TM 29, TM 31, TM 36, TM 38 feature top-quality workmanship. From the 10″ to 19″ front rims, to the thought put into the design, these bikes are clearly the top choice for 2022.
Featuring twin spar frames, front and rear disc brakes. The mono-shock rear end and dual inverted front forks give these small bikes a full suspension. The welded steel frame and twin-spar motor mounts give this bike a great balance and power to weight ratio. Easy-to-access motor mounts allow quick access for maintenance.
Electric start is a feature that is usually only available in larger much more expensive bikes. Only the highest quality engine components are used in the air-cooled engine. Semi-automatic transmission teaches young riders to use the gears to accelerate and bring the bike to a safe stop. Available in manual and semi-automatic transmissions.
Trailmaster has a proven track record for over two decades providing outstanding service to all of our customers. The engineers at Trailamster have been working on these bikes for three years to get them to the market. They are here are they were worth the wait.
Main Features:
Powerful 4 stroke 298cc liquid cooled engine
Electric and kick start, 6 speed manual clutch
Central Tube High Strength Steel Frame
59" wheel base and 37" seat high
PWK34 Competition Carburetor
Front tire 21"/Rear Tire 18"
Forged Aluminum Swingarm
Dual Piston Caliper, 240mm Disc front brake
940mm Inverted Hydraulic Dual Adjustable Forks, 300mm Travel front shock
460mm Dual Adjustable Shock with Ballonet, 120mm Travel rear Shock
LED Headlight
POWER SYSTEM
Engine Type:NC298, Single Cylinder, 4-Stroke, 4-Valve, Liquid Cooled, SOHC, Balance Shaft
Displacement:298 ml
Max Power:23KW / 9000rpm – 31Hp
Bore and Stroke:82 x 53.6 mm
Lubrication:Pressure and Splash
Shift Type:Wet multi disc clutch, International Gear Pattern,6-Speed
Start Type:Electric & Kick Start
Carburetor:PWK34 Competition Carb.
Ignition:Digital CDI
Drive Train:#520 Chain, FT: 13T/RR: 51T Sprocket
PERFORMANCE:
Front Fork:Φ54*Φ60-940mm Inverted Hydraulic Dual Adjustable Forks, 300mm Travel
Rear Shock:480mm Dual Adjustable Shock with Ballonet, 120mm Travel
Front Wheel:7116 Aluminum Rim, Gravity Cast Hub, FT: 1.6 x 21
Rear Wheel:7116 Aluminum Rim, Gravity Cast Hub, RR: 2.15 x 18
Front Tires:80/100-21
Rear Tires:110/100-18
Front Brake:Dual Piston Caliper, 240mm Disc
Rear Brake:Single Piston Caliper, 240mm Disc
DETAILS:
Frame:Central Tube High Strength Steel Frame
Swing-Arm:Forged Aluminum Swingarm,L=590mm
Handle Bar:Tapered Aluminum #7075
Overall Size:86.6″X33.9″49.2″/2200x860x1250mm
Packing Size:67.5″X18″X34″/1715x450x860mm
Wheel Base:59″/1500 mm
Seat Height:37″/940 mm
Ground Clearance:11.8″/300 mm
Fuel Capacity:6.5 L / 1.72 Gal.
N.W:234lbs/117KG
G.W:326lbs/148KG