Suomy Stellar Apache Full Face Helmet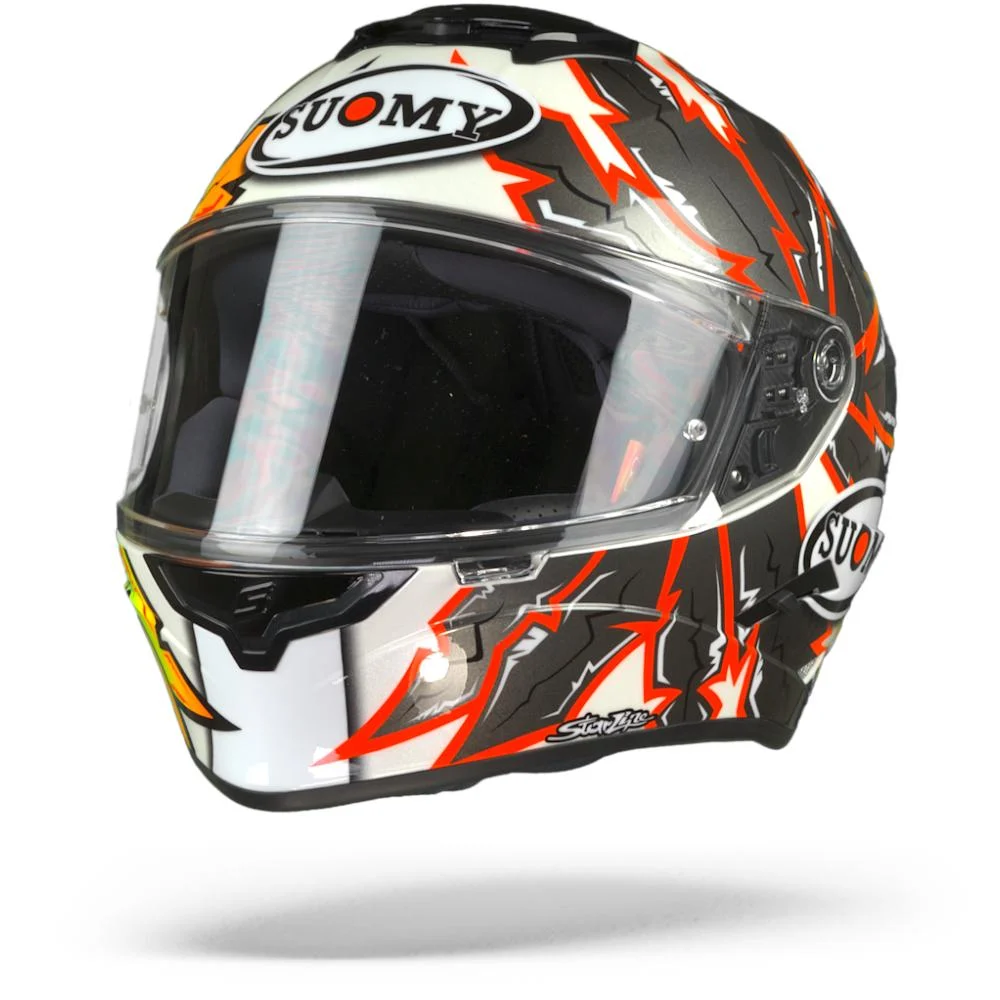 Suomy Stellar Apache Full Face Helmet
Born to satisfy the youngest Suomy riders, STELLAR is the full face helmet affordable to everyone inspired by the previous Speedstar to complete the range. Designed for both touring and urban use, it perfectly combines safety, design and comfort. Wide visor in optical class 1, Pinlock Max Vision included and maxi internal sun visor are the allies to satisfy all kind of visibility conditions. Stable and comfortable fitting, removable inners made of hypoallergenic fabrics and a front air intake that ensures a better airflow also at lowest speed, are now a must even for a helmet witha thermoplastic outer shell. New and captivating designs have been added to the existing iconic graphics, symbol of Stellar.
Why choose the Suomy Stellar Apache Full Face Helmet?
The Suomy Stellar is a great full face helmet by Suomy for Adventure/Touring, Race/Sport, Urban/Street riders. Compared to any other style helmets, full face helmets provide the best overall protection as they cover you from top to chin. This is why you only ever see full face helmets on the track. When deciding on a new helmet and safety is your top priority you cannot go wrong with a full face helmet. If this Stellar is not the helmet you are looking for, don't worry we have a lot of other Suomy full face motorcycle helmets in our collection.
Safety features of the Stellar
A helmet's job first and foremost is to provide protection. Constructed from Polycarbonate, this White Stellar offers excellent protection and performance without having to break the bank. The chinstrap is an important part of the helmet's effectiveness in a crash and It is also the part that you interact with the most when putting on and taking off the helmet. The Stellar features a Micrometric buckle. This is a safe and user friendly buckle, it allows for easy adjustments and unlike any other style of buckles you can actually operate this buckle with your gloves on. Of course all of our helmets are certified and road legal for European roads as this helmet is ECE 22.05 approved. This safety rating is also road legal in many other countries like Australia and Canada.
The Stellar Comfort
Besides safety, comfort is key to any good helmet, this Stellar features a ventilation system with 2 Intake ports, 4 Exhaust ports which keeps you fresh and cool. In addition the helmet is fitted with a Moisture wicking, Removable, Washable interior. The Polycarbonate shell makes the helmet weigh 1600g and our customers rate this helmet to have an Intermediate fit.
Suomy Stellar looks
A helmet is arguably the most expressive piece of gear that a motorcyclist can wear. Especially full face helmets come in a wide range of color options and even replicas of your favorite MotoGP riders. If you are looking for a Black, Hi-Vis Yellow, Orange, Red, White, Yellow helmet this particular version of the Stellar is a great choice! It has a Graphic design and a Gloss paint finish. Do you like the helmet, but are just not in love with the color? We have all available colors from the Stellar right here!